Short-term Rehabilitation Services
Rehabilitation and Therapy Services at Park Village Health Care's Continuing Care Retirement Community
For individuals who require short-term rehabilitation following a hospital stay, our Dover and New Philadelphia campuses offer a full range of services covered under Medicare part A, including: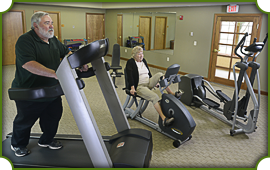 Private rooms with full furnishings, cable TV and telephone
Pharmacy services
Specialized diets in dining areas or in the privacy of your own room
Registered Nurses 24 hours a day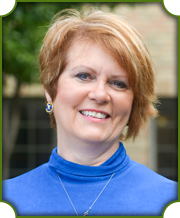 Our therapy team is led by Jayne Snader, who is well known and highly respected for her expertise in managing physical therapy, occupational therapy and speech pathology services in our area since 1984.
Jayne and her staff are committed to addressing each of our residents' conditions with evidence-based strategies that involve screening, recommendations, consultations and general education.
A specific evaluation plan is completed for each skilled care patient the same day of admission, and therapy services are available six or seven days a week as required. For additional patient convenience, the Park Village Rehabilitation Unit is located very close to the Therapy Department and its staff of full-time therapy professionals.
Therapy services for outpatients are provided through physician referral.
Rehabilitation Therapies:
Cognitive assessment and therapeutic intervention including components of the Allen Approach and Montessori
Comprehensive gait analysis and therapeutic training
Community re-integration
Bio-feedback
Assessment and screening
Geriatric fitness
Evidence based balance and falls risk reduction intervention
Home assessment for return to home planning
Comprehensive osteoporosis therapy with emphasis on well care
Continence assessment and intervention
Outcome oriented rehabilitation for total knee, total hip and total shoulder replacement
Orthopaedic surgeon compliant program for spinal surgery and vertebroplasty
Therapeutic intervention for spinal stenosis
Early discharge planning, from day of admission
On-site and in-department functional training suite
Neurologic recovery and rehabilitation
Bi-weekly rehabilitation team meeting and utilization review
Intensive skilled therapy interaction with third party payers to facilitate optimum coverage for appropriate beneficiary services
Frequent interaction with house physicians to plan the best rehabilitation experience and recovery outcome
Take a Virtual Tour
Schedule a Personal Tour