Make Sure You're Comparing Apples to Apples
When looking for a health care or retirement campus, it is important to make sure you are comparing apples to apples.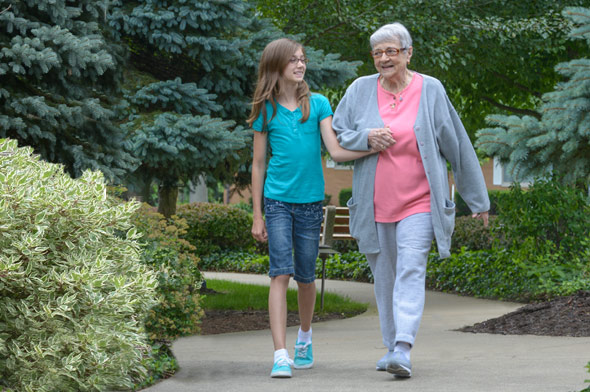 Park Village Health Care is a family-owned and operated Continuing Care Retirement Community (CCRC) in its third generation.
The O'Donnell family has hands-on involvement in the daily operation of Park Village. The importance of choosing a CCRC is in the options it provides you or your loved one. When choosing Park Village, you are choosing a campus that provides services for your immediate and any potential future needs. Moving is difficult and sometimes unrealistic. These options prevent our clients from having to move from facility to facility when their needs change. Here, you simply move on campus and are assured that we know your history and needs, and understand your expectations.
Our Dover and New Philadelphia facilities rest on beautiful campuses with extensive green space and plenty of spots to enjoy the outdoors. We highly encourage you to take a tour and experience first-hand the environment, including cleanliness, organization, and staff appearance.
And when comparing the overall quality of environment, rates, and associated costs, Park Village stands out from the rest.
At Park Village Health Care, we offer:
Skilled Nursing and Rehabilitation Care
Long-term, experienced health care providers
Medical Director – Dr. McClain
Twenty-three private rooms, many reserved for short-term residents utilizing rehabilitation services
Jayne Snader, Directory of Rehabilitation and Therapy Services, earned her undergraduate degree from The Ohio State University, and her doctor degree from Boston University. Jayne leads our in-house therapy department, staffed with local therapists who are employees of Park Village.
Over 70 years of experience in end-of-life care, but also contracted with all three local hospices: Community Hospice; Crossroads Hospice; and Great Lakes Hospice
Priority admission to our Assisted or Independent Living facilities
Assisted Living and Independent Living
No down payment or deposit to reserve an apartment or upon admission
Each apartment has an individually controlled central heating and air conditioning thermostat, eliminating the loud, bulky, inconsistent window units commonly found at other campuses.
Laundry services are included in the per diem charge in Assisted Living, and residents of Independent Living have free access to centrally located washers and dryers
24-hour-a-day access to LPN and Personal Attendants dedicated only to that apartment area
24-hour-a-day access to an RN as needed
24-hour-a-day immediate contact with nursing staff through a remote wireless call system
Medication administration is included in the per diem rate in Assisted Living
Our charges for Activities of Daily Living (ADLs) are far less than most of our competitors